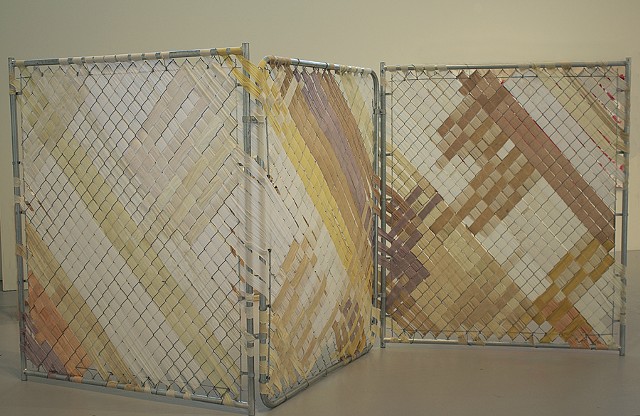 Woven Space
Chain link fence, natural dye materials acquired from Chicago empty lots, and cotton fabric.
6' x 15' apprx.
2013
Chicago's vacant lots are a common part of life on the west and south side. The urban landscape physically expresses and reflects the social, political, and financial networks that bind the community while also creating divides between us. These urban spaces have many implications for our everyday life: in the actions, we take, in decisions we make, and the crises we weather. Detroit activist Grace Lee Boggs promotes empty lots as a challenge to the community. She believes that laying claim and taking over these spaces without permission can produce massive cultural change. Boggs sees vacant lots and abandoned houses as opportunities to provide not only the space to begin anew but also as incentives to create innovative ways of making our living—ways that nurture our productive and cooperative selves. The sculptures that I have made for this exhibition largely consider these dynamics.
To make this sculpture I have taken materials from vacant lots to guide my work engaging with the land and community. As a starting point, I use the structure of a chain-link fence that surrounds empty lots in Chicago. In "Woven Spaces," I began by visiting seventeen lots within an eight-block radius of my apartment. There I collected samples of what has been left behind such as garbage, old tools, dirt, plants, and building materials to create natural dye to dye fabric. I then take the fabric and weave it into the chain-link fence. These works attempt to reflect on Bogg's theory of productive engagement of these spaces and consider what is there and what has been left behind in the community. The materials from the lot are used to create new objects that work to engage the public meant to be critical of the operations of power and property.