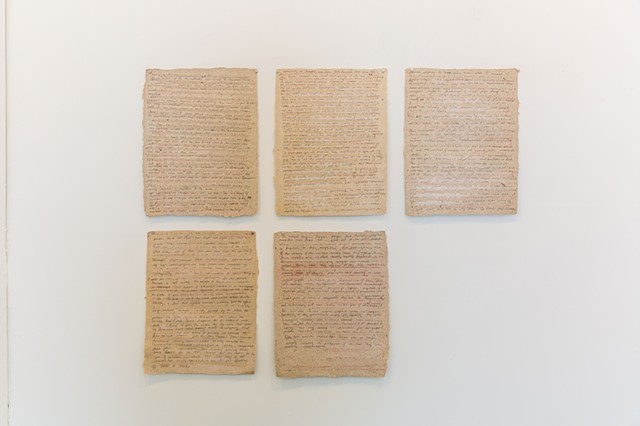 Margins, Lines & Borders
Plants from local lots in Garfield Park. The paper was faded in the sun and blocked out with tape forming lines to "guide" my hand written text. I hand wrote my research onto the paper over the tape and blended in red pencil
5, 22"x 18"
2017
Margins, Lines & Borders speaks to the vacant spaces, absences, confusion, and conflicts in Chicago's inequitable systems. These texts are the cumulation of research about the Garfield Park and North Lawndale neighborhoods' history and demographics dating back to the Great Migration. For this project, I interviewed neighborhood activists from the Contract Buyers League, who worked to stop the racist practice of redlining (banks who refused to finance black homebuyers because they are deemed a financial risk) in Chicago. The handwritten text is a transcription of the interviews and a biography on Clyde Ross from The Atlantic magazine, "The Case for Reparations," by Ta-Nehisi Coates.
The Contract Buyers League worked to stop racist and unfair mortgage practices for black West Side Chicago residents, a practice prevalent in the area for decades. The CBL attracted Martin Luther King Jr. to their cause; in the summer of 1966, MLK on 16th Street in Lawndale to address poverty, property, and housing.
Plants from local lots in Garfield Park. The paper was faded in the sun and blocked out with tape forming lines to "guide" my handwritten text. I handwrote my research onto the paper over the tape and blended it in red pencil.