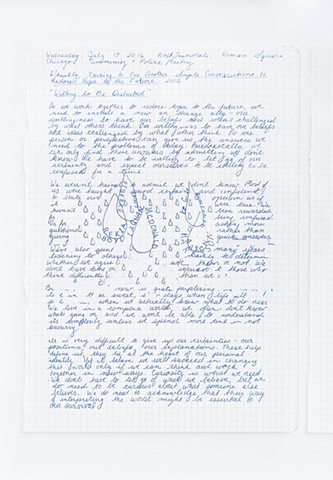 Tears for Those Departed
Diptych Collage, pen, white out tape, graph paper, and cotton paper
17"x 22"
2016
June 2016, Joe Biden speaks out publicly in support of a rape victim days later the Pulse massacre.
I was 16 and driving, listening to the song I Like Fucking, by Bikini Kill.
We could not be silent
So we screamed.
It was a violent time to be a woman to be queer.
Still is - more violent for others.
From a newspaper, to an essay, to a conversation, to a memory. The hand written essay was used by my friend Mashaun Hendricks to lead a restorative justice training with police and the residents of North Lawndale after a Guardian article exposes Chicago's police torture in a blacksite building across the street from where we worked together.
Teardrops are loss of those forgotten, remembering their story.
Each tear drop represents a loss a love one to the community.